The Health and Safety Authority in Denmark has announced a significant change in the law regarding the recirculation of air on metal working machines that use coolant. As of July 1st, manufacturers are no longer required to employ a piping system to draw the polluted air outdoors. Instead, businesses now have the option to utilize advanced technology to clean and recirculate the industrial indoor air.
In light of this regulatory development, 3nine, a leading manufacturer of oil mist separators, highlights the suitability of their products for the cleaning and recirculation of air on metal working machines that use coolant.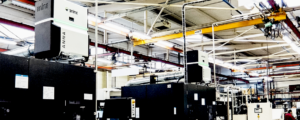 3nine's Development Manager, André Nordgren, comments:
This regulatory change is a testament of the commitment to sustainability and technological advancements in the manufacturing industry. Our oil mist separators are specifically designed to ensure a healthy and safe working environment for metal working professionals while minimizing the impact on the surrounding environment.
The 3nine units operate with centrifugal separation to ensure that the polluted air from the machine tool cabin is effectively separated from particles and droplets in a sustainable fashion. Furthermore, by utilizing a certified H13 filter, the 3nine units guarantees a 99.95% removal of all particles or droplets generated. This exceptional level of performance guarantees the protection of workers from harmful particles while simultaneously enabling the recirculation of clean air within the workplace. Utilizing the separation technology provided by 3nine comes with many advantages such as reusing of cutting fluid, low maintenance, low filter consumption and a reduced environmental impact.
As the new regulation comes into effect on July 1st, 2023, metal working machine operators in Denmark can now adopt the use of 3nine oil mist separators to enhance workplace safety and minimize the impact on the external environment. 3nine remains dedicated to developing cutting-edge technologies and solutions that promote healthier and more sustainable work environments across various industries.
We are thrilled with the revised regulation by the Health and Safety Authority in Denmark, stated Karl Eliasson, Nordic Distribution Sales Manager of 3nine.
We are looking forward to continuing our cooperation with our distributor NORDIC ApS to ensure clean air for customers in the Danish market.
About 3nine:
3nine is a leading provider of innovating technology for industrial applications. With a mission to provide clean and healthy working environments, 3nine offers cutting-edge solutions for oil mist, oil smoke, and dust elimination. By combining innovative technology with extensive industry expertise, 3nine continues to be a trusted partner for customers seeking reliable air purification solutions. 3nine guarantees clean air to the lowest TCO (total cost of ownership), by innovation leading solutions.
For more information about NORDIC ApS please visit their website at https://www.nordic.nu/