By equipping their machine tools with 3nine Industries oil mist separators, Expander Systems was able to take control of the air quality in their workshop.
As part of keeping the air free from oil mist, Expander System has since 2014 chosen to invest in 3nine Industries oil mist separators in the Swedish production facility. In addition to minimizing the Nord-Lock Group's overall climate footprint, the Group continuously strives to ensure a healthy working environment for its employees.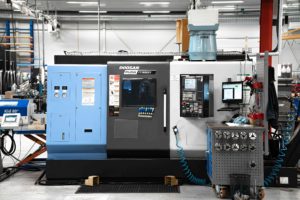 3nine's products are reliable, efficient and require very little maintenance.
– Andreas Skogh – Production Investment at Expander System Sweden AB
To help customers gain control over the air quality in their shop, 3nine Industries has recently launched a concept called "Clean Air Initiative". The concept includes three parts; strategic planning, advanced technology and superior service. A 3nine Industries service technician will take air quality measurements in selected areas of a customer production facility where contamination is suspected. The data is prepared in a report and presented to the customer. If air pollution sources would be identified, a strategic action plan is formed in order to secure a healthy working environment with the customer. 
In addition to our most recent purchase from 3nine, an oil mist eliminator Anna, we also chose the Clean air initiative service provided by 3nine and have had measurement issued in our premises. We did not immediately suspect that we had problems with the air quality but felt that we did not want to take any risks since it concerns the health of our staff. Therefore, it was a relief to know that the air quality in the workshop is good and that we now know for sure that Expander Systems offer a healthy work environment for our employees.
– Andreas Skogh – Production Investment at Expander System Sweden AB
Expander System
Expander System Sweden AB is a company globally recognized for its pivot pins that counteract lug wear in machine joints. The company offers a unique solution for lug repair performed in the worn mountings without welding and line boring. At their two production facilities, one located in Åtvidaberg, Sweden, and the other in DeWitt, Iowa they have sold and installed more than 1.5 million pivot pins on more than 60,000 applications worldwide, supporting a wide range of customers within the forestry, mining, and process industry, among others.  
The Nord-Lock Group acquired Expander Systems Sweden AB in 2016. With a sharp increase in demand for Expander System's products, they invested heavily in production and have expanded their production facility in Sweden with over 3,500 m².  Now the completely digitalized production flow produces a high volume of customized parts in less than 48 hours. With the new and larger production facility, it is now possible to increase the production volume by up to 600%.  
Expander System Sweden AB
Bäckgatan 7
597 53 Åtvidaberg
Sweden
Website